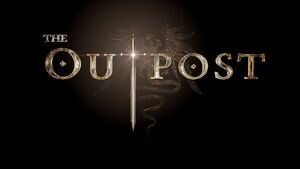 The Outpost is an American television series created by Kynan Griffin and Jason Faller. The show currently airs on The CW in the United States, Syfy internationally, and Electric Now.[1]
The first season of the series premiered on July 10th, 2018, on The CW. It aired a total of ten episodes.
On October 9, 2018, The CW renewed The Outpost for a second season.[2] Season 2 aired on July 11, 2019, and aired a total of thirteen episodes.
On October 15, 2019, The CW renewed The Outpost for a third season. Season 3 is slated for a Summer 2020 release date.[3]
The series stars Jessica Green as Talon, Jake Stormoen as Garret Spears, Imogen Waterhouse as Gwynn Calkussar, and Anand Desai-Barochia as Janzo.
Dean Devlin and Jonathan Glassner created the series. They serve as executive producers, along with Marc Roskin, Rachel Olschan-Wilson, Jason Faller, and Kynan Griffin.
Summary
The Outpost follows Talon, the lone survivor of a race called "Blackbloods". Years after her entire village is destroyed by a gang of brutal mercenaries, Talon travels to a lawless fortress on the edge of the civilized world, as she tracks the killers of her family. On her journey to this outpost, Talon discovers she possesses a mysterious supernatural power that she must learn to control in order to save herself, and defend the world against a fanatical religious dictator.
Cast
Main Cast
Recurring Cast
Seasons
Trivia
Awards
| Year | Result | Category | Recipient(s) |
| --- | --- | --- | --- |
| 2019 | Nominated | Best Fantasy Television Series | The Outpost |
References
↑ https://variety.com/2019/digital/news/the-outpost-electric-entertainment-ott-channel-leverage-1203370407/
Community content is available under
CC-BY-SA
unless otherwise noted.