We're Getting Mutants in the MCU - The Loop
Play Sound
The Key is a mystical artifact from the Blackblood culture. It has unknown magical properties that reveal hidden constellations in an ancient shrine called Vor-Anden. When the Key, completed with a gem, is inserted into the wall at Vor-Anden, the cave reveals an incredible feat.
History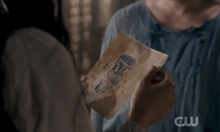 In "Because She's Worth It", Zed finds the Key in Talon's things and they argue over it. Talon lied about never having seen the key before. Zed remembers the stories from his childhood but only remembers that it is somehow involved with a stone wall and stars. The books that The Smith had don't mention anything more about the key. He wants to know where the rest of it is but Talon doesn't know what he's talking about. He hands her a paper with the key printed on it and tells her to look at the stone in the middle. The stone is missing from the key Talon has. She remembers seeing the stone around Varlek's neck when he attacked her as a child. She doesn't tell Zed what she remembers and simply tells him that is all the Dragman gave her. Talon and Zed later travel to find the stone as Talon claims she knows where it is.
In "A Crown For The Queen", Janzo tells Talon about his research regarding the Key the Dragman gave her. He shows her a map of where the shrine that holds the gemstone, Vor-Anden, could be. The area is thick with Greyskins and Prime Order soldiers. Talon thanks him for his help. Later that day, she leaves the Outpost with Zed to find the stone.
In "There Will Be a Reckoning", Talon and Zed embark on a journey to Vor-Anden in the hopes of finding the gem. She had buried it with Varlek after his death. She takes him to Varlek's grace which is away from her adopted families. He frantically digs in the dirt until he finds his skull and body. Around his neck is the gem, which Zed takes from the necklace. Talon gives him the necklace and the gem fits into it perfectly. Blue light streams from the gem and she asks what it's doing, but Zed has no idea.
In "The Only Way",
Owners
Notes and Trivia
Gallery